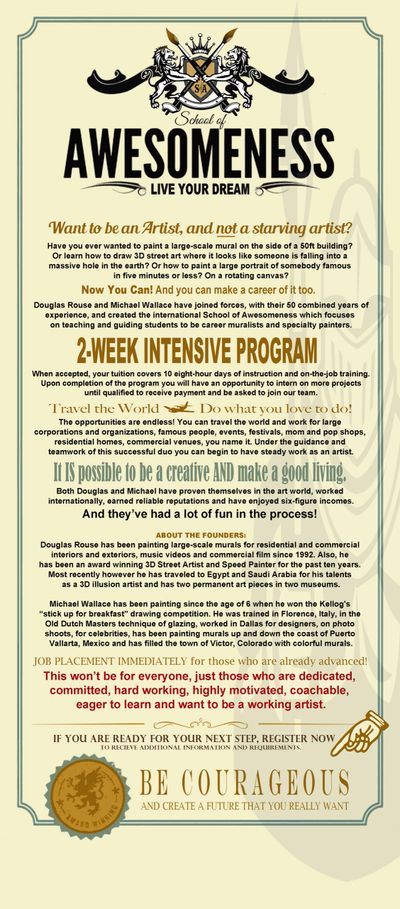 Want to be an Artist, and NOT a starving artist?
Have you ever wanted to paint a large-scale mural on the side of a 50ft building? Or learn how to draw 3D street art where it looks like someone is falling into a massive hole in the earth? Or how to paint a large portrait of somebody famous in five minutes or less on a rotating canvas?
NOW YOU CAN! AND YOU CAN MAKE A CAREER OF IT, TOO.
Douglas Rouse and Michael Wallace have joined forces, with their 50 combined years of experience, and created the international School of Awesomeness which focuses on teaching and guiding students to be career muralists and specialty painters.
Two-Week Intensive Program
When accepted, your tuition covers 10 eight-hour days of instruction and on-the-job training. Upon completion of the program, qualified students may have an opportunity to intern on more projects while demonstrating eligibility to join our team.
TRAVEL THE WORLD - DO WHAT YOU LOVE TO DO!
The opportunities are endless! You can travel the world and work for large corporations and organizations, famous people, events, festivals, mom and pop shops, residential homes and commercial venues. You name it. Under the guidance and teamwork of this successful duo you, can begin to have steady work as an artist.
It IS possible to be a creative AND make a good living.
About the Founders
Douglas Rouse has been painting large-scale murals for residential and commercial interiors and exteriors, music videos and commercial films since 1992. Also, he has been an award winning 3D Street Artist and Speed Painter for the past ten years. Most recently, however, he has traveled to Egypt and Saudi Arabia for his talents as a 3D illusion artist and has two permanent art pieces in two museums.
Michael Wallace has been painting since the age of 6 when he won the Kellog's "stick up for breakfast" drawing competition. He was trained in Florence, Italy in the Old Dutch Masters technique of glazing. Then, for years, he worked in Dallas for designers, on photo shoots and for celebrities. Most recently he has been painting murals up and down the coast of Puerto Vallarta, Mexico and has filled the town of Victor, Colorado with colorful and historical murals.
JOB PLACEMENT IMMEDIATELY for those who are already advanced.
THIS WON'T BE FOR EVERYONE, JUST THOSE WHO ARE DEDICATED, COMMITTED, HARD WORKING, HIGHLY MOTIVATED, COACHABLE, EAGER TO LEARN AND WANT TO BE A WORKING ARTIST.
BE COURAGEOUS...
and create a future that YOU really want.